Professor Ben Sedinger, Kennedy-Grohne Chair in Waterfowl and Wetlands Conservation in the UW-SP College of Natural Resources has asked WCHF Board of Governor member Tim Eisele to give a presentation on Ding Darling to his Wildlife class on Wednesday, October 2, 2019. You are welcome to sit in if you'd like to hear more about Jay Norwood "Ding" Darling, see his conservation cartoons and hear about the legacy he left.
Professor Sedinger sent directions:  "Tim's talk will be in the Trainer Natural Resources building (TNR) in room #320 on October 2nd from 9:30-10:45am.  The room can seat about 40 people in addition to students in my class and I'm not sure how many extras are going to show up so I'd recommend telling folks to show up at least 15 minutes early to ensure a seat."
Campus map.  There is metered parking in lots R, Y, and T which are all within a 5 minute walk from the TNR building.
Jay Norwood "Ding" Darling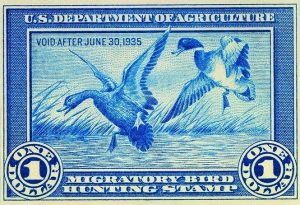 Although Darling attended the University of Wisconsin-Madison, he didn't call Wisconsin his home. He was, however, very instrumental in the conservation movement. According to Wikipedia, he initiated the Federal Duck Stamp program and designed the first stamp. President Franklin Roosevelt appointed him as head of the U.S. Biological Survey, forerunner of the U.S. Fish and Wildlife Service.
The J. N. "Ding" Darling National Wildlife Refuge on Sanibel Island in southwest Florida is named after him, as is the Lake Darling State Park in Iowa that was dedicated on September 17, 1950. Lake Darling, a 9,600-acre lake at the Upper Souris National Wildlife Refuge is also named his in honor. More recently a lodge at the National Conservation Training Center near Shepherdstown, West Virginia was named in his honor.
Darling was elected as a member of the Boone and Crockett Club, a wildlife conservation organization, on December 13, 1934.
He was instrumental in founding the National Wildlife Federation in 1936, when President Franklin Roosevelt convened the first North American Wildlife Conference (now the North American Wildlife and Natural Resources Conference), administered by the American Wildlife Institute (now Wildlife Management Institute).
Darling received the annual Pulitzer Prize for Editorial Cartooning and the National Audubon Society's Audubon Medal for his conservation achievements.