1947-
Inducted 2017
"George Meyer is a tireless advocate for natural resources in our state and nation. His talent is in effectively mobilizing people to act on behalf of the resources, and navigating the political system in ways that get things done. Wisconsin could not ask for a better steward of her land, water, soil and wildlife." — Wisconsin Conservation Leadership Corps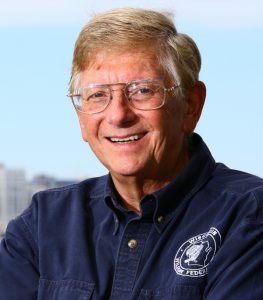 A highly respected and influential Secretary of the Wisconsin Department of Natural Resources (WDNR), George Meyer was instrumental in creating and advancing major conservation and environmental policies affecting all of the State's natural resources. During his three decade career with the WDNR, Meyer worked on many of the most challenging, and often controversial, policy issues affecting Wisconsin.
In addition to his years in public service, Meyer spent much of his life promoting citizen participation and the advancement of conservation organizations. Since retiring from the WDNR in 2002, Meyer has led the Wisconsin Wildlife Federation (WWF), serving as its first Executive Director. With 200 affiliate organizations statewide, the Federation promotes sound resource management through its educational and advocacy programs.
One of it's more exciting educational programs is the WWF Conservation Leadership Corps (CLC) which is open to high school students in their senior year, or college students in their freshman, sophomore and junior year. WWF and CLC pay all expenses for travel, food and lodging. At the successful completion of the program, participants receive a $250 scholarship to further their conservation education.
Throughout his career, he has been respected for his integrity, leadership, and unassuming personality. He received many awards and much recognition for his contributions to conservation.