Roy (1929-2016) and Charlotte (1944- ) Lukes
Inducted 2018
"Rarely does nature fail to produce some thrilling experiences for those who take to the out-of-doors, are eager to learn and are willing to be patient and observant. Door County…is an ideal classroom for such experiences."
"All of us who are interested in the natural environment are faced with the same responsibility. We must learn about the world around us and take care of it." — Roy and Charlotte Lukes, Once Around the Sun: A Door county Journal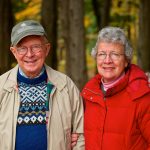 Door County naturalists, Roy and Charlotte Lukes, spent their lifetimes protecting the natural beauty of the peninsula and sharing its magic through their teachings, writings, and personal charm. As "Partners in Nature," they built the Ridges Sanctuary into a center for conservation education, research, and advocacy. They educated and inspired citizens of Door County and the State through their many research efforts, lectures and nature walks, books and newspaper columns. Although Roy has passed on, Charlotte has continued to write the weekly column "Door to Nature" for the Door County Pulse.
Roy and Charlotte were also instrumental in protecting many of the county's most scenic gems and ecologically valuable habitats. They saw their scientific research on the flora and fauna of Door County as a cornerstone to their work in conservation related education, policy and public leadership. In recognition of their lifelong collaboration, the couple received nearly thirty awards from numerous educational, literary, civic and environmental organizations.
For more information read his Hall of Fame monograph.