Died in 1999
Inducted 2008
"Wisconsin personified, a solid citizen who tells homey stories about himself, thinks before he talks, takes his time to consider all sides, then makes up his mind, digs in and holds his ground." — Milwaukee Journal Sentinel on Besadny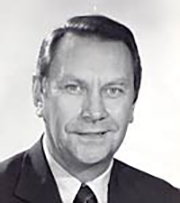 Besadny was educated in Wisconsin schools, and gave much of his life to state resources issues. He served the DNR and its predecessor, the Wisconsin Conservation Department, for 40 years. As an appointed secretary, he worked with three governors, Lee Dreyfus, Tony Earl, and Tommy Thompson.
Wisconsin became the first state in the nation to achieve federal Clean Water Act "fishable and swimmable" standards during Besadny's tenure. Wisconsin also became the first state to develop a wastewater compliance management program.
The Knowles-Nelson Stewardship Fund for land acquisitions was created in 1989 as a successor to the Outdoor Recreation Act Program. Administered by the DNR, it is the state's major program for acquiring and protecting lands of significant environmental importance. Ground-water protection, soil erosion control, toxic substance regulation and recycling were other environmental initiatives at the time. Multiple-use forestry also gained acceptance in the state during his time as secretary. "He was the right man at the right time with the right skills," said Conservation Hall of Fame President Gene Roark.
The state also made major strides in wildlife management in Besadny's years. The successful re-introduction of wild turkeys to Wisconsin came under his watch. The DNR also initiated deer census and tracking methods and introduced hunter's choice deer permits. These accomplishments hit close to home for Besadny, who was trained as a wildlife biologist.
The conservation work of this Wisconsin native son earned accolades from governors and colleagues, and the name "Father Nature," used to describe him in the Wisconsin magazine of theMilwaukee Journal. The same newspaper characterized him as "Wisconsin personified, a solid citizen who tells homey stories about himself, thinks before he talks, takes his time to consider all sides, then makes up his mind, digs in, and holds his ground."
Besadny died in 1999.