1913 – 1961
Inducted 2013 
"John Curtis elucidated the ecology of Wisconsin more than has been done with any other state.  In doing so, he developed and promoted community ecology and many of the methods for investigating natural communities that remain in use.   The work of Curtis had profound influence on the science of ecology, and on management and protection of natural areas in Wisconsin."  — Alan  Haney and Donald Waller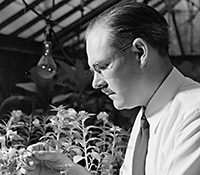 John Curtis was born in Waukesha, Wisconsin, in 1913. He received an A.B. from Carroll College in I934 and a Ph.D in botany from the UW-Madison in 1937. He remained on the faculty at UW-Madison for his entire career. He was recognized as a Guggenheim Fellow in 1942 and in 1951. Curtis was interested in the preservation of natural ecosystems, and was chairman of the Wisconsin State Board for Preservation of Scientific Areas, precursor to the state Natural Areas Commission, from 1952-1955. Wisconsin now has over 300 state natural areas.
John Curtis is arguably best known for his seminal book, The Vegetation of Wisconsin: An Ordination of Plant Communities (1959). This book assembled a remarkably complete picture of the state's plant communities and their relation to environmental variables. In addition to detailed descriptions and interpretations of the natural communities of Wisconsin, this book presents convincing support for the idea that plant species respond in separate and continuous ways to underlying gradients in environmental conditions. Curtis became famous for this "continuum" concept of ecological gradients. His work also established the nature of the prairie-forest border and the recognition to the "tension zone" where climate, soil, and fire have created a dynamic transition.
At UW-Madison Curtis was instrumental in the development of the Arboretum that was begun by Aldo Leopold. Building on the goal of restoring representative natural communities, he championed the concept of community restoration rather than collections of species as is more typical of arboretums. Curtis did much to shift the focus of ecological research from species (autecology) to communities (synecology), The sub-discipline of restoration ecology has largely grown from Curtis' early work on community ecology. Among his specific contributions, his research on prescribed fire as a tool to restore prairie is now widely employed in ecological management.
Through his analysis, John Curtis elucidated the ecology of Wisconsin. Because of this work, more is known about Wisconsin's ecology than any other state. In doing so, he developed and promoted community ecology and many of the methods for investigating natural communities that remain in use. Curtis' work had a profound influence on the science of Ecology, and on the management and protection of natural areas in Wisconsin.
This biography has been developed from work by Wisconsin Hall of Fame Director Milo Harpstead, and biographers Alan Haney, Donald Waller, and Joseph Pasineau.