1906 – 2006
Inducted 2012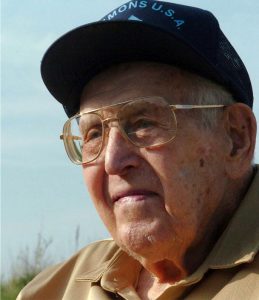 "Sportsmen, landowners, bird watchers, conservationists and interested citizens must all cooperate and support practices that protect the wildlife and habitat of our environmental heritage." — Phil Sander
Phil H. Sander was born in Kenosha in 1906 and is one from a very short list of environmentalists to survive into his or her 100th year of life. Devotion to natural areas was apparent from his early childhood when he explored the forests and wetlands along the Lake Michigan shoreline. He earned his living for 47 years as an industrialist in Kenosha with the Simmons Company and with American Motors. Throughout his working years, his interests ranged from archeology, history, community affairs, and service to youth. Upon presenting Phil Sander the Honorary Doctorate of Public Service in 1995, Carthage College in Kenosha summarized his accomplishments as "six decades of ardent promotion of conservation and environmental protection."
Sander's noteworthy achievements are overwhelming. Among the tracts of land that he played a major role in preserving is the Chiwaukee Prairie, in Kenosha County, an area of wetland and adjacent uplands along the Des Plaines River preserved in the Des Plaines Wetlands Conservancy. Also, the repurposed jet fighter base which became the 4,500 acre Bong Recreational Area in the southeast Wisconsin-northeast Illinois area.
Sander worked closely with other renowned environmentalists on a variety of statewide causes. Among them, Conservation Hall of Fame inductees Aldo Leopold, Joseph Hickey, Walter Scott, and Owen Gromme.
His archeological interest led to the discovery and mapping of buried forest along Lake Michigan. His report and maps led others to the discovery of a full-grown northern wooly mammoth.
The sixteen awards listed in his resume' range from a Golden Honor Badge from the Boy Scouts of America to the Honorary Doctorate of Public Service from Carthage College. Sander was a "citizen conservationist," a leader who worked in other professions but whose passion for conservation motivated him to dedicate much of his life to the cause.