1951-1998
Inducted 2005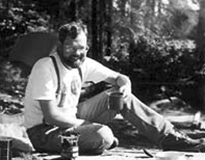 "Fortunately, conservation science now enables us to do much better than trial and error. Population biology has developed well-accepted methods for calculating the size, distribution and habitat areas needed to ensure the long-term viability of a species' population." – Kuhlmann
Those who worked with attorney Walter Kuhlmann praise his integrity and intelligence. People in the conservation community credit him with helping to effect major changes in resource management, especially the idea of conservation forestry, in which plant and animal diversity receive due consideration in forest planning.
Folks who served with Kuhlmann on citizen advisory committees credit him with donating time, talent and energy to sound environmental policy at the state and national level. "Walter's vision had reach and substance, and it will be relevant to resource management far into the future," said former Wisconsin Department of Natural Resources (DNR) Secretary George Meyer about Kuhlmann.
After earning a degree in economics at Yale, Kuhlmann chose to attend the University of Wisconsin Law School in Madison, telling his family back East that he had fallen in love with Wisconsin's natural beauty. He stayed, too. He, his wife, Debby, and their children Hannah and Charles, made their home in Cross Plains. His legal work involved representing an array of clients on all sides of environmental discussions. He left a lasting impact in a specific area: establishing legal precedence for the protection of biological diversity. Kuhlmann worked in state and federal circles in the 1980s and 1990s to make sure that management decisions on public lands embraced this concept, often referred to as conservation biology.
Kuhlmann led the effort to pass one of the first laws in the country recognizing conservation biology on state lands. He also challenged management plans for Wisconsin's national forests on the grounds that they didn't protect biological diversity as required by federal law. The appeals became federal lawsuits, and while the legal battle was lost, the process challenged the U.S. Forest Service to recognize conservation biology in its plans.
While making a living by providing legal counsel to municipalities, much of his work was pro bono, for organizations like the Sierra Club, the Wisconsin Audubon Council and the Wisconsin Forest Conservation Task Force. He worked with others to create 1000 Friends of Wisconsin, a group that promotes wise land use. He also served Defenders of Wildlife. At the national level, he promoted protection of migratory birds and other species, including the goshawk. Back home, he volunteered on numerous state DNR citizen advisory committees. He was known also for his deep love of family and the outdoors.
Walter Kuhlmann accomplished much in his 46 years of life, and his deeds will continue to have an impact on conservation law for many years. Said Dave Cieslewicz, executive director of 1000 Friends of Wisconsin, "He was to the law of conservation what Aldo Leopold was to the science of conservation and what Gaylord Nelson has been to the politics of conservation."
FACTS
Environmental advocate who helped shape state and national policies
Worked to insure equal consideration of plant and animal diversity in forest management decisions
Provided pro bono legal services to environmental groups in many causes
Citizen advocate who served on numerous advisory groups
(Publication of this fact sheet made possible with assistance from Krause Publications, Iola, Wisconsin.)