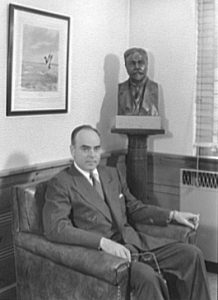 1902-2005
Inducted 2007
Citizen-conservationist-philanthropist Guido Rahr, Sr. was born March 25, 1902, in Manitowoc, Wisconsin. His family owned Rahr Malting Co since it was founded by his grandfather, William Rahr, in 1847.
Rahr graduated from Culver Military Academy and Yale University. Joining the family business after graduation, he rose to become president and treasurer, then chairman of the board and chief executive officer of the reorganized Rahr Malting Co.
Governor Walter Kohler appointed Rahr to the State Conservation Commission where he is credited with helping to operate the commission as an efficient, business-like body.
A biographical sketch prepared when Rahr was named National Conservationist of the Year by the National Wildlife Federation (NWF) in 1967 credited Rahr for being "…personally responsible for many of the profession policies and programs that have made the Wisconsin Conservation Department one of the outstanding wildlife agencies in the nation." According to the NWF biography, under Rahr's leadership, the Commission made sustainable yield operations a standard in Wisconsin, gained public acceptance of scientific deer herd management, nearly doubled the size of the state park system, guided recreation development and land purchases on a business-like basis, and instituted many other significant programs.
As head of the Rahr Foundation and the Guido R Rahr Foundation, he directed donations of many thousands of dollars to conservation causes, in addition to civic and community organizations.
Rahr took a deep personal interest in conservation education. He is credited with providing $1,500 annually to teachers for scholarships at conservation workshops and training courses. Financial contributions to groups included Trees for Tomorrow, Wisconsin Audubon Camp, the "Ranger Mac" school conservation program, school forests, Boy Scouts and YMCA outdoor recreation activities.
In Manitowoc, he maintained a large demonstration farm, open to the public, to promote good forestry and wildlife management practices in connection with agriculture. Thousands of visitors used the facilities annually, including many school and youth groups.
Rahr had a role in the acquisition of the Collins Marsh area near Manitowoc. He led in the development of Conservation Education Inc in 1954. Conservation Education Inc sponsors workshops to immerse new teachers into forest and terrestrial ecology, aquatic communities and soil and land use. The organization manages the Collins Marsh Nature Study Center with a resident naturalist. Many school groups visit the site annually at the 4,200-acre marsh owned by the State.
In 1955, Rahr bought wooded land adjacent to the Point Beach State Forest and gave it to the Manitowoc Board of Education for development as a school forest education project, Memorial School Forest.
Rahr was also long associated with the Milwaukee Museum, where he held the position of Research Associate in Conservation, and the Milwaukee County Zoological Society.
Rahr also held membership in numerous conservation groups, including the Izaak Walton League. He supported and was a member of groups which included the Wisconsin Wildlife Federation, Ducks Unlimited, the National Audubon Society and the Society of Tympanuchus Cupido Pinnatus.
"He was a conservationist before it was popular, a Teddy Roosevelt kind of conservationist," recalled grandson Guido Rahr III, president of the Wild Salmon Center in Portland, Oregon.