1925 –
Inducted 2009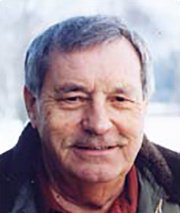 "I never really listened much to special interest groups. To me, it was the common men and women who loved to hunt and fish, and what they wanted." – Herb Behnke
The longest-serving member of Wisconsin's Natural Resources Board earned respect in state conservation circles for positions he took on behalf of common folks. Herbert "Herb" Behnke was born on a Lena dairy farm, the youngest of 10 children. He never forgot those humble roots.
As a young man, he left the farm to work at Cooperative Resources International (CRI), a Shawano-based animal breeding business, where he rose to the position of vice president of marketing.
One of his first tastes of citizen engagement came in 1961, when Gov. Gaylord Nelson (Conservation Hall of Fame inductee) appointed him to the Wolf River Basin Regional Planning
Commission. He carried knowledge gained from that service to the natural resources arena, especially in the areas of conservation and land use.
FACTS
Longest-serving member of Resources Board
Served as the voice of "common men and women" on the board
Strong supporter of state acquisition of significant lands
Encouraged efforts to develop long-term deer management policy
Balanced science with public's needs