1907-1993
Inducted 2001
"Conservation means more than preserving a few species of wildlife. It means the wise use of all the natural wealth of a great continent so that other generations of Americans can benefit by its resources and enjoy the same opportunities that we do today." — Joseph Hickey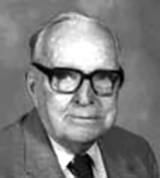 Joseph Hickey became the second professor in the University of Wisconsin-Madison's Department of Wildlife Management. In 1948, shortly after Aldo Leopold's death, Hickey was appointed head of the department.
Years earlier, as an graduate student at Madison, Hickey wrote A Guide to Bird Watching as his master's thesis. The book is still in print and used by many who want to pursue various aspects of birding, from banding to song identification.
Among his many conservation contributions, Hickey played an important role in helping to unravel the connection between declines in bird populations and the effects of chlorinated hydrocarbon pesticides such as DDT.
For more information read his Hall of Fame monograph.
Lessons from the Historic Banning of DDT by Virginia Small