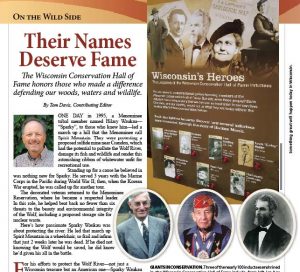 The Our Wisconsin magazine is packed with upbeat stories about the places, people and events which make Wisconsin unique. It is colorful, conversational and filled with entertaining reading cover to cover. What could be better than all that?
The April-May issue of Our Wisconsin magazine will feature the WCHF! With story and photos, Outdoors Writer Tom Davis highlights the contributions of Menominee tribesman Hillary "Sparky" Waukau, conservation pioneer Increase Lapham, Ice Age Trail founder Ray Zillmer and others
With avid appreciation for Wisconsin conservation history, Davis visited the WCHF to gather inspiration for the article. His wealth of knowledge about their contributions and stories from times he'd met several of the inductees brings depth to his writing.
Get a copy of the April-May issue of Our Wisconsin from the news stand or order from their website. It should be available soon.
Thank you Sunshine Buchholz for making me aware of this magazine article.