1926 – 2014
Inducted 2012
"For over 60 years, he contributed to protecting, promoting and managing Wisconsin's migratory birds and their habitat, particularly with regards to
wetlands." — from Hunt's Hall of Fame biography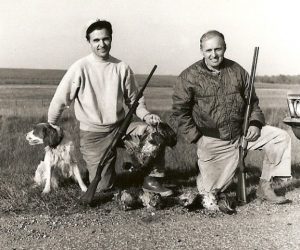 Dick Hunt was born in 1926; Bob Hunt in 1933. They grew up in the small town of McFarland on Lake Waubesa, near Madison. The lake, river and associated wetlands, together with their interest in hunting and fishing oriented the Hunt brothers towards their professional careers in wildlife and fisheries management. Both had military experience, both received college degrees at the UW-Madison where they were strongly influenced by the successors of Aldo Leopold. Dick zeroed in on the management of upland game and waterfowl while Bob's zeal was for trout management. Together they performed 69 years of extraordinarily productive work with the Wisconsin Conservation Department and its successor the Department of Natural Resources.
Each is credited with the authorship of a long list of professional publications, and they are the recipients of many awards, nationally and internationally. Dick Hunt's fundamental commitment of wildlife conservation led do the development of one of the finest wetland and waterfowl conservation programs in the country. Bob Hunt's innovative wild trout research continues to have significant impact on fisheries policies not only in Wisconsin, but nationally and internationally. He has served as consultant and trainer to state, national and international agencies and organizations.
The Hunt Brothers contributions have been summarized as follows: "Thanks to Dick's efforts, more than anyone else's, Canada geese, once scarce in Wisconsin, now abound. Thanks to Bob's efforts, more than anyone else's, Wisconsin's wild trout, once diminishing in streams devastated by habitat damage and contaminated with hatchery fish, now thrive. Those improved resources enhance the quality of life for the people of Wisconsin and for the visitors to its fields, marshes and streams."
For further information on Richard A. Hunt, read One Family – Two Unique Conservationists and his Hall of Fame monograph.
Richard Hunt passed away October 23, 2014. Obituary