On August 22, 2019, I received this note from WCHF friend Richard Hemp and thought I'd share: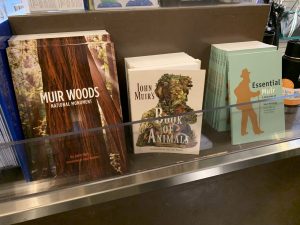 "I was in the San Francisco ferry terminal last week and saw these books on John Muir prominently displayed.  Perhaps you may have seen some or all these publications.  His ongoing outreach continues to be amazing.  So great for WCHF visibility."
John Muir, often referred to as the Father of the National Parks, was WCHF's first induction into the Hall of Fame in 1985, along with Aldo Leopold, Father of Wildlife Ecology and the United States' Wilderness System.