1909-2001
Inducted 2008
"If timber and heavy sod are so important in maintaining the very soil itself, why are clearing of land and overgrazing of pastures and woodlands continued?" — Mel Cohee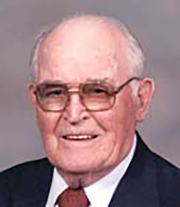 Cohee joined other soil erosion pioneers in implementing the Coon Valley Watershed Demonstration Project in southwest Wisconsin in 1933. The first of its kind in the nation, the project was selected as a model by the fledgling Soil Erosion Service under the leadership of Hugh Hammond Bennett. Others participating in the project included Conservation Hall of Fame inductees Aldo Leopold, father of the "land ethic," and George Wehrwein, a UW-Madison rural economist.
The Coon Valley project involved a 92,589-acre drainage basin in the hilly driftless region of southwestern Wisconsin, mostly in Vernon County. It emerged as a national model because it included a plan of action based on close personal contacts with cooperating farmers on their land. This model continues to underlie private lands conservation work in America today. The Soil Erosion Service evolved into the Soil Conservation Service and then the Natural Resources Conservation Service, but this one-on-one approach with land owners is still important to the work of technicians in the field.
Cohee was a key field worker on the Coon Valley project, serving as farm management specialist. He went on to a lifetime of work in soil conservation, land use and agricultural economics. He headed the SCS regional office in La Crosse and later went to Washington, D.C., where he served the agency in several capacities. His roles included six years as chief of the program procedures and project plans division of SCS, putting him in charge of project planning for the entire country.
Upon retiring from SCS, Cohee returned to Wisconsin, where he spent 10 years as a technical consultant for the DNR, doing economic research for state and privately owned recreation enterprises. He also did consulting work for the United Nations in the areas of land use and irrigation.
Cohee was among the founders of the Soil and Water Conservation Society and played an important role in the society's early days by serving as its first elected national secretary.
Cohee died in 2001.