1926 – 2007
Inducted 2006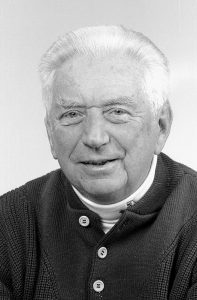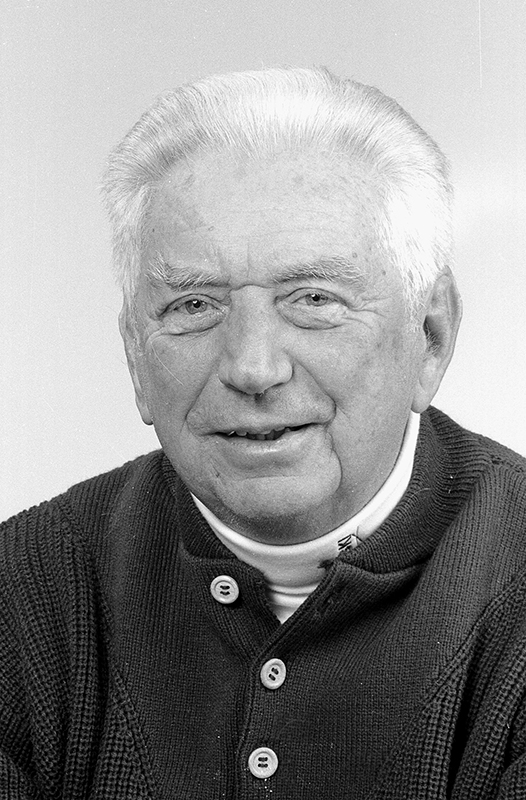 "If we don't start conserving pretty soon, we won't be sustainable as a culture." – Trainer
The smiling face and quick wit of Daniel O. Trainer have brightened the lives of many thousands of Wisconsin residents. In most cases, he also left them with a lesson or two about conservation.
Trainer of Stevens Point has been active on a variety of conservation fronts. He served as dean of the University of Wisconsin-Stevens Point College of Resources from 1971-87, a period that saw the college grow to become the largest undergraduate natural resources program in the United States. That was preceded by a decade of work on the veterinary faculty at the University of Wisconsin-Madison, where he earned a reputation as an international expert on animal diseases. He was also a member of the Wisconsin Natural Resources Board from 1980-86. While on the board, he was especially interested in land purchases for preservation.
Back home, he was a founder of Intra-State Recycling, a pioneering volunteer recycling group in Portage County. He was also a member of the founding committee for the 24-mile Green Circle Trail in the Stevens Point area and helped to establish the Plover River Alliance, working closely on those projects with long-time friend George Rogers, an environmentally minded newspaperman from Stevens Point. He helped establish or worked on numerous other local, state and national groups. His wife, Betty, was also active in community causes, including the League of Women Voters.
The son of a game warden, Trainer grew up in Princeton, Wisconsin, where he developed a love for hunting and fishing and a skill for dealing with people, learned from his father.
In his time at UW-Madison, he was among those who created a graduate program in diseases of wildlife. The focus of his own work was disorders in deer. After coming to Stevens Point, he continued to do research and publishing in his field, and in 1972 he was named the third American to receive the Distinguished Service Award of the Wildlife Disease Association.
With the environmental movement gaining momentum in the early 1970s, Trainer was attracted to the potential of building the Stevens Point program with Chancellor Lee S. Dreyfus and other leaders. There were about 500 students when he arrived. When he retired in 1987, there were 1,600 students. Trainer sees his own accomplishments through the lives of those students, who fanned out across the country and beyond after their education in Stevens Point. "In many ways, my impact on the environment was through the students. We prepared them to go out and work on the front lines," he said. "Those students were able to go anywhere, and we took great pride in helping them to get through school. They're like extended family. I never met one who wasn't proud to be a Point graduate."
Trainer is also proud that the College of Natural Resources achieved an often elusive goal in higher education: "We took an integrated approach to natural resources. Everything related to everything else." Looking back on a distinguished career, Trainer said this: "I've always had the best job in the world – natural resources and young people, and all in the state of Wisconsin."
FACTS
Built UW-Stevens Point College of Natural Resources to the largest undergraduate resources program in the nation
International expert in wildlife diseases
Member of DNR Board and other state and national groups
Leader in establishing Stevens Point area's Green Circle Trail
(Publication of this fact sheet made possible with assistance from Krause Publications, Iola, Wisconsin.)
For more information read his Hall of Fame monograph.
Dan Trainer passed away on December 8, 2007.  Obituary