1943-2013
Inducted 2016
"In a state recognized for its conservation leadership, Noel worked tirelessly both professionally and in his private life on restoring, improving and protecting our ecosystem at both a global and local level." — Wisconsin Society for Ornithology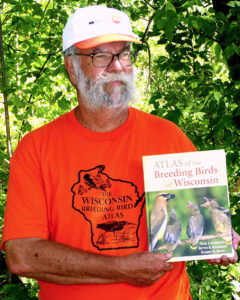 A well-known and much-admired Wisconsin ornithologist, Dr Noel Cutright devoted his personal and professional life to bird conservation, citizen science and ecological restoration.
After receiving his Master's and Ph.D. degrees from Cornell University, he worked as the environmental conscience for We Energies in Wisconsin for 29 years as. As their Senior Terrestrial Ecologist he promoted numerous environmental projects and initiatives throughout the energy industry.
As president and project leader for the Wisconsin Society for Ornithology, Cutright galvanized and advanced the organization's research, science and conservation efforts. He was senior editor of the landmark Wisconsin Breeding Bird Atlas.
As a long-term advisor to the WDNR and the US Fish and Wildlife Service, he promoted the Wisconsin Bird Conservation Initiative, the State Natural Areas Program and neotropical migratory bird conservation efforts.
He helped to create the Bird City Wisconsin Program (now recognizing 87 communities statewide); to develop management plans to restore populations of osprey, bald eagles, peregrine falcons, trumpeter swans and bluebirds; and to establish state natural areas in Wisconsin and neotropic nature reserves in Belize and Costa Rica.
He received prestigious awards from the WDNR, Gathering Waters Conservancy, and Milwaukee Audubon Society. As an educator, he shared his knowledge and deep love of the natural world, inspiring countless "new conservationists" to work together to restore and protect ecosystems locally and globally.