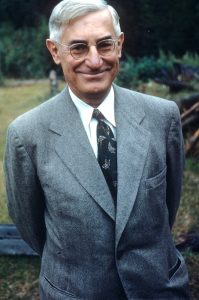 1887-1960
Inducted 1993
"We spend millions to go fast. Let's spend a little to go slow." – Zillmer
An enthusiastic outdoorsman, mountaineer and arctic adventurer, Zillmer was a Milwaukee attorney and longtime member of the Izaak Walton League. He is best remembered for championing land acquisition and trail development in the Kettle Moraine State Forest and for starting the Ice Age Park and Trail Foundation. Largely due to his energetic efforts, the Ice Age Trail was established and certain glacial landforms along its route were designated as a National Scientific Reserve.
Hundreds of people who hike the Ice Age Trail each year can thank Raymond Zillmer for his vision.
A lifelong resident of Milwaukee, Zillmer was an avid walker and student of natural history. Zillmer had an intimate connection with the Kettle Moraine State Forest from its inception in the 1930s until his death. A member of the Izaak Walton League, he urged the State to purchase the land for recreation and watershed protection. He led efforts to convince the State Legislature to designate proceeds from the forestry mill tax for Kettle Moraine land acquisition. The State Forest now covers more than 50,000 acres in two regions north and west of Milwaukee.
But Zillmer envisioned more. He saw the Kettle Moraine State Forest forming the nucleus for a much larger, linear national park. In the 1950s, he advocated for a hiking trail that would continue westward several hundred miles along Wisconsin's terminal moraine, the geological feature marking the farthest advance of the last great glacier. "Nowhere can the work of the glacier be seen or studied to better advantage than in Wisconsin," he said.
Zillmer created the Ice Age Park and Trail Foundation in 1958 to begin efforts to establish a national park encompassing this route. In 1960, just as his proposal was gaining support, Zillmer died.
His dream almost died, too. In 1961, the National Park Service concluded that, while many glacial features of Wisconsin warranted national attention, a park hundreds of miles in length would be too difficult to administer. Supporters of Zillmer's vision at the local, state and national level explored options. They conceived the Ice Age National Scientific Reserve, a National Park System affiliate composed of nine units around Wisconsin to preserve glacial landforms and landscapes.
In the early 1970s, efforts began in earnest to create the long-distance hiking trail. The Glacial Hiking Trail in the Northern Kettle Moraine State Forest became the backbone. Volunteers constructed new trail segments, often on private lands after securing narrow easements. The Ice Age Park & Trail Foundation continues to protect, promote, build and maintain the trail.
On October 3, 1980, President Carter signed a law establishing the Ice Age National Scenic Trail, one of only eight in the nation. The 1,000-mile trail winds through the State, from Door County south to Rock and Green counties, north to Lincoln and Langlade counties, then west to Polk County and the Mississippi River. It was designated Wisconsin's only State Scenic Trail in 1987.
FACTS
Actively promoted state purchase of forestland for the Kettle Moraine State Forest
Advocated a lengthy national park along Wisconsin's terminal moraine
Founded the Ice Age Park and Trail Foundation
Provided the impetus for the Ice Age National Scientific Reserve
(Publication of this fact sheet made possible with assistance from Krause Publications, Iola, Wisconsin.)