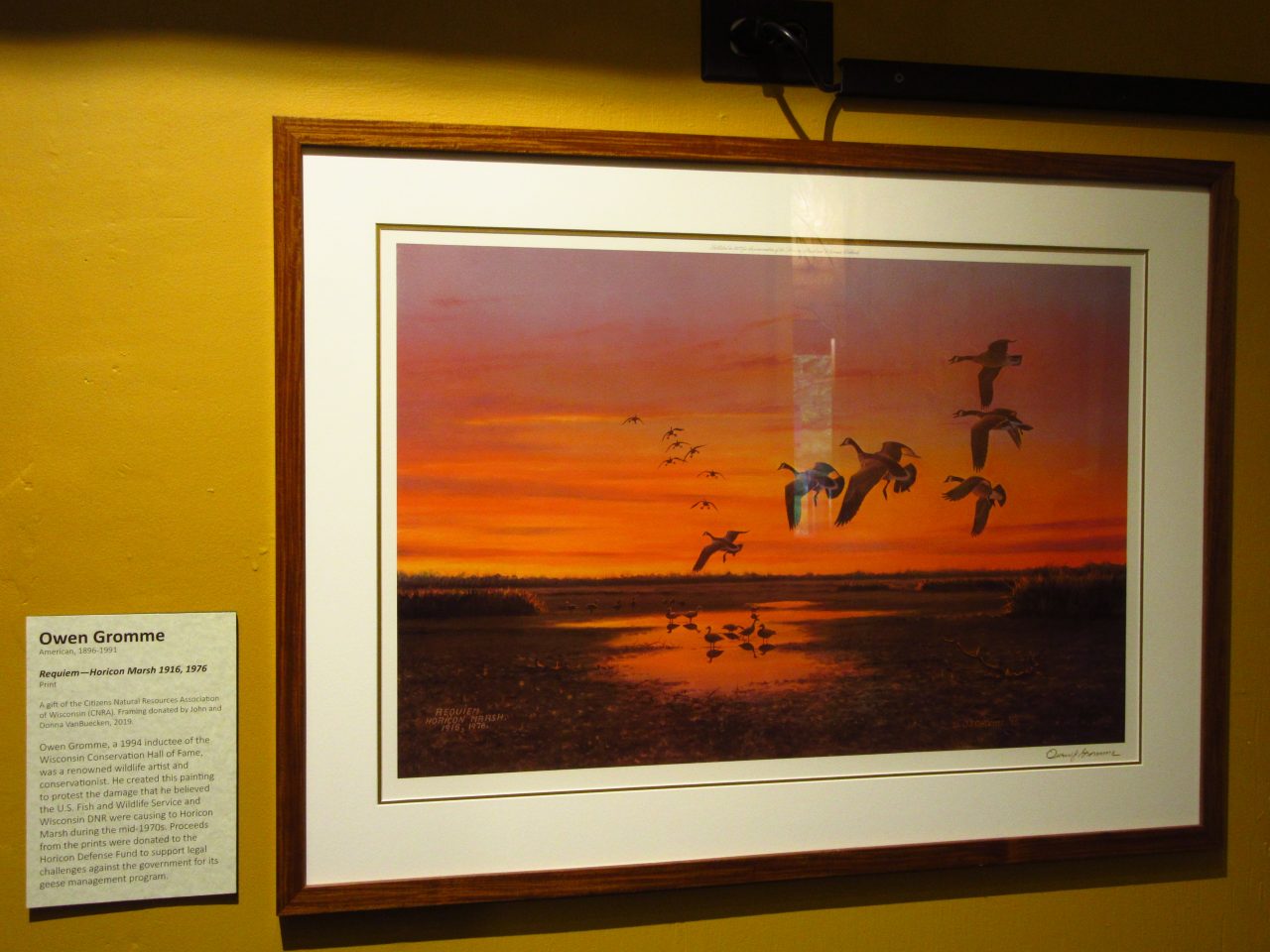 We are delighted to send our thanks out to the WCHF Board Member organization Citizens Natural Resources Association (CNRA) for their gift of an Owen Gromme print entitled "Requiem Horicon Marsh: 1916-1976," and also to Donna and John VanBuecken for framing the print. Donna is Vice President and currently Acting President of WCHF. The print hangs in the Wisconsin Heroes display in the WCHF Conservation History Museum in the Wisconsin's Heroes display.
Owen Gromme (1896-1991), a 1994 inductee of the Wisconsin Conservation Hall of Fame, was a renowned wildlife artist and conservationist. He created this painting for CNRA to protest the damage he believed the US Fish and Wildlife Service and the Wisconsin Department of Natural Resources were causing to Horicon Marsh during the mid-1970s. "Water was being drawn down, creating potential disease hazards, and geese were being hazed with air boats, airplanes and helicopters. The painting was intended to rouse citizen awareness and raise funds for legal fees in an effort to stop these practices. " (CNRA – The First 50 years 1951-2001)
Painted in "brilliant oranges and yellows, the scene depicts Canada geese coming into the Horicon Marsh on a fall sunset." (Daily Citizen) Proceeds from the prints were donated to the CNRA's Horicon Defense Fund to support legal challenges against the government for its geese management program.
As noted by Bill Volkert, retired WDNR Wildlife Educator/Naturalist, in the Daily Citizen, "through experiment and experience, the goose management program was altered successfully to address the concerns among both biologists and the public, and today we have not only a very successful management program, but long-term public support to the point where this conflict is all but forgotten."
In 2007, CNRA gave Gromme prints to the Friends of the Center to use as thank you gifts for large donors to the Horicon Marsh International Education Center.
See The Goose Wars.