1912 – 1997
Inducted 2009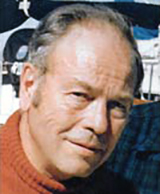 "We have a choice about the kind of world we leave to future generations. But unless we heed the warning signals, there may be no historian to recall one day that we failed to act in time." – Charles H. Stoddard
Milwaukee native Charles H. "Chuck" Stoddard rose to top government positions in agencies that managed America's natural resources. But he put the public good above his career to protect human health and Lake Superior in a major pollution battle.
Stoddard was involved in conservation for most of his life. He worked as a professional forester, a public official, an author and an environmental activist.
He was educated in Milwaukee public schools and earned bachelor's and master's degrees in forestry at the University of Michigan. He developed a love of the outdoors at an early age. It grew from the outings he took with his father, a physician and member of the local Izaak Walton League chapter. He served in Washington, D.C., for a decade, including a stint as director of the Department of the Interior's Bureau of Land Management, from 1963-66. When Harold "Bud" Jordahl (Conservation Hall of Fame inductee) left the position of Upper Midwest Regional Coordinator for the Interior Department in 1967, Stoddard saw an opportunity to get out of Washington and closer to his family's land near Minong.
Stoddard soon found himself in the middle of one of the first major large-scale water pollution battles in the nation. The controversy over the pollution of Lake Superior drew attention all across the country.
FACTS
Released the "Stoddard report," documenting pollution in Lake Superior
Served as director of the federal Bureau of Land Management
Sought to reduce clearcutting of western forests and increase grazing fees on public lands
Authored book on conservation and textbook on forestry