1899-1982
Inducted 1987
"By saving any wilderness, what you are really saving is the human spirit." — Sigurd Olson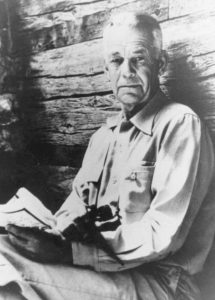 Sigurd Olson was a literary laureate to wilderness lovers. Although he was born in Chicago and lived much of his life in Ely, MN, he had early roots in Wisconsin and was active in fights to protect Wisconsin wilderness and whitewater.
After graduation from Ashland High School, he attended Northland College in Ashland and the University of Wisconsin in Madison, majoring in geology.
He later became recognized as one of the nation's most erudite ecologists. Olson authored more than 100 magazine articles and nine books, The Singing Wilderness, Listening Point, The Lonely Land, Runes of the North, The Hidden Forest, Open Horizons, Wilderness Days, Reflections from the North Country, and Of Time and Place.
For more information read his Hall of Fame monograph.
Listening Point Foundation located in Ely, Minnesota is a Sigurd F Olson legacy organization which works to keep Sig's legacy and wilderness philosophy alive in the world today.
See Wild Prophet from the Outdoors Weekend edition of the Star Tribune.