1884-1972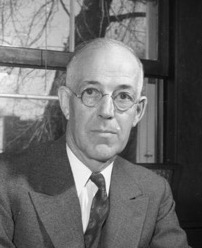 Inducted 2018
"Dedicated to the last Passenger Pigeon shot at Babcock, Wisconsin September 1899. This species became extinct through the avarice and thoughtlessness of man." — Arlie Schorger, 1947, WSO Monument at Wyalusing State park
"Arlie William (Bill) Schorger, accomplished chemist, businessman and polymath, devoted the second half of his life and his accumulated wealth to natural history studies and conservation. Author of the definitive book on the Passenger Pigeon's extinction, he admonished us to 'hold onto that which we have, lest we shall never see the like again.'" — Stanley Temple
As a man of many talents, Arlie (Bill) Schorger excelled as a chemist, inventor, businessman, and wildlife conservationist. In conservation circles he is most well known for his work as a nature historian and for his books on the life histories of Wisconsin's Wildlife and man's impact on them. His 1955 award winning book The Passenger Pigeon: Its Natural History and Extinction helped advance a global concern for wildlife management, biodiversity and the new field of conservation biology.
He became a Professor of Wildlife Management after retiring from his business career in paper chemistry and devoted the rest of his productive life to advancing conservation through his research and writings. As a personal friend of Aldo Leopold, he also played a pivotal role in launching Leopold's career and conservation legacy.
He was also known for his public service, philanthropy and leadership in state and national conservation organizations. He served on the Wisconsin State Conservation Commission (now the WDNR Board) and as President of the Wisconsin Academy of Science, Art and Letters. As a philanthropist, he contributed to many conservation, literary and civic programs.
A tribute to Arlie (Bill) Schorger from the UW-Madison College of Agricultural and Life Sciences.